Retail Management System
Traditional Retailing faces thin margin pressures and high competition from modern retailers offering products in multi-channels. Modern retailers face challenges of multiple stores, a large set of employees, fast movement of goods between warehouses and stores, speedier delivery to customers, unique customer experience, differentiated pricing, multiple discount options, tiered loyalty rules. A unified approach is required to handle these numerous challenges so that there is a coordinated equilibrium to balance between cost, service, profit, and sustainability. Any traditional silos of information systems can't provide a multi-dimensional view of data to manage multiple aspects of business growth simultaneously and spare management of time to focus. And thus, the Integration of the various business functions in the Retail industry is an essential prerequisite for data synchronization among the different business activities involved in a retail business, which can be handled by adopting an integrated ERP for the Retail industry.
Retail ViVA, Sathguru's modern ERP for the Retail industry was built with a vision to offer transformational digitization of Retailers who are forward-looking to usher into the next horizon of retail management. Since its first design in 2007, Retail ViVA was built as one unified platform to cover most segments of retail operations in an integrated manner, so that power of advanced analytics can help make strategic decisions. Retail ViVA prides to have digitized most of the retailer functions in a flexible yet controlled manner, and some of the complex merchandising challenges faced in day-to-day operations. Decades of consulting experience to the Retail industry was the backbone that could make Retail ViVA design comprehensive enough for Retailers to cherish using our Retail ERP.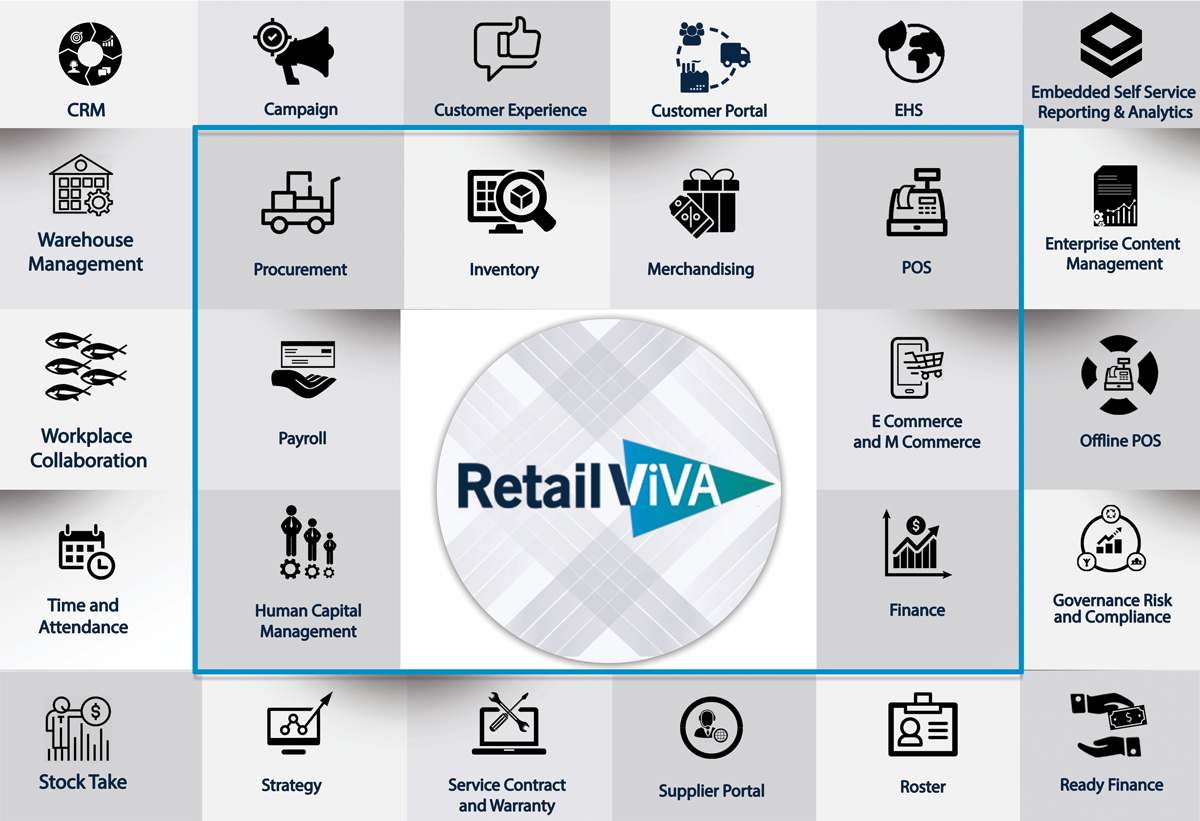 Retail ViVA, ERP Software for Retail business was built based on interactions with over 5,000 retail users of diverse retail segments and improved over a decade by listening to their challenges and pain points coupled with our retail thought leadership of deep understanding of the Retail industry's diversified needs.
Retail ViVA, ERP Software for Retail business is an enterprise-class 26 modules, vertical-specific ERP for the Retail industry, integrated seamlessly from Procurement to Warehousing. Distributed through Corporate Sales and Point of Sale (POS), this solution incorporates Merchandise Planning, Promotions Planning, Business Operation Reports, and Retail Analytics helping our clients to make informed business decisions. Retail ViVA offers a scalable and flexible Retail Management System designed to help our clients make faster decisions, increase margins, improve customer experience, and gives a critical edge over others. Retail ViVA is a unique and Artificial Intelligence (AI) powered Enterprise Resource Planning (ERP) suite that covers the entire gamut of the Retail process from Store to Head Office. It not only offers the best Point of Sale (POS) experience but also establishes itself as an end to end Retail Management Solution. Retail ViVA is an Omni-Channel Retail Solution.
With Retail ViVA, ERP Software for Retail business, you don't need to have multiple software from multiple vendors, run your operations smoothly with superior & highly integrated Retail ERP solution with comprehensive coverage of Retail Business processes built on a modern 3-tier architecture with proven customer installations across multiple continents. Retail ViVA integrates Customer Relationship Management (CRM), Campaign, Customer Portal, Offline Point of Sale (POS), Environment, Health and Safety ( EHS ), Enterprise Content Management (ECM), Embedded Self Service Analytics, Customer Experience, Governance, Risk and Compliance (GRC), Project Management, Ready Finance, Roster, Supplier Portal, Service Contract and Warranty, Strategy, Stock Take, Time & Attendance, Warehouse Management, Procurement, Inventory, Merchandising, Point of Sale (POS), E-Commerce & M-Commerce, Finance, Human Capital Management (HCM), Payroll, and further powered by tools like 4S, Tetra, Artificial Intelligence (AI) powered Tulsi, Simvey, Signoh!. Retail ViVA is custom-built ERP for Retail Industry right from scratch.
---
Share this page: