Company profile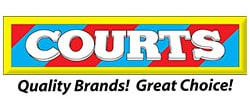 Courts (Fiji) Limited, a wholly owned subsidiary of Vision (Group) Limited, is the dominant market leader, specialist retailer of electrical, electronics and home-furnishing products, trading in countries where market leadership is maintained through its scale and support provided by a competitive credit proposition. Courts have an extensive store network of Mega Stores, Tier1 and Tier 2 stores in all major cities and towns in Fiji Islands and the market share is estimated at around 70%. Courts is also the largest provider of consumer finance outside of the regulated financial institutions, serving a customer base of over 77,000. The in-house financing gives Courts a significant competitive advantage in the market. Sales are complemented by extended warranty and credit protection insurance products. Courts Fiji has more than 20 Stores across Fiji and employs over 700 employees.
Business situation
Courts works with a philosophy of providing superior shopping experience coupled with faster service to its customers. Courts offers a range of various branded merchandise from electrical appliances, furniture, computers, sports, recreational equipments and many more.
Challenges:
Courts Fiji Ltd was using a legacy independent software's for Point of Sale, Credit Management, Human Resources, payroll administration and for back office transactions with a minimal integration process. Due to client service architecture, it becomes a process to send price list and promotion details to branches, often needing multiple entries of same data. Financial accounting was completely disconnected with point of sale and credit operations. It always demands an IT in-charge intervention to manually push the data to Finance from other modules, going through challenging "End of day" processing for hours. Management always had a fear and limitations of moving to latest technology due to huge past data in the legacy system.
Cost of new developments and annual software maintenance was becoming expensive compared to value realization for the same.
The non-integrated solution often posted challenge of integrity of data between modules, often needing a reconciliation process to achieve accuracy
The legacy system was not meeting to new and modern retail concepts and various work-around needs to be employed by Courts employees to cater to modern customer needs. The period end reconciliation was lengthy needing to take care many of those work around for appropriate disposal
The ready credit system which was the backbone of demand driver was quite manual with bulky agreement and other documents occupying godown space and making retrieval of documents a challenge during repossession.
Price change effect was time consuming and was highly centralized, needing to push new price tickets from head office to all branches
The POS was not supporting demand push for linked and add-on products thereby maximizing per customer gross revenue
The after-sales service was not productivity linked and had substantial overdue services items
Overall, the system did not address many of the modern retailer needs and was being driven by way of duplicating manual process and time consuming efforts without accuracy
Technical situation
Disconnected software's and data processes
The technical architecture was mix of online and offline data access, needing several key actions to be waiting till end-of-day processing for reflecting across branches.
All other than core software modules were distinct and non-integrated making data process more difficult and less accurate for Courts management to rely upon
The company also recognized the need to establish effective controls to avoid frauds and to provide for effective audit reports for constant monitoring.
Courts needed to improve access to all business information, and increase efficiencies in every department including customer service
Solution
Redesigning Retail Management
Retail ViVA Enterprise solution


Retail ViVA is an enterprise class Retail ERP solution integrated seamlessly from Procurement Warehousing and Distribution through Corporate Sales and Point of Sale (POS), incorporating Merchandise Planning, Promotions Planning, Business Operations Reports and Retail Analytics helping you make informed business decisions. Retail ViVA offers scalable and flexible retail solution designed to help you make faster decisions, increase margins, improve customer experience and gain a critical edge. Retail ViVA is a unique application that covers the entire gamut of the retail process from store to head office. It not only offers the best POS experience, but also establishes itself as an end to end retail management solution.

Courts management evaluated many retail ERP solutions and decided to implement Retail ViVA for its wide coverage of business process including well integrated document management system for handling their ready finance documents. They were confident Retail ViVA would enable them to pull every facet of their business operation into single system without needing any other software.

Sathguru took the challenge to streamline the changeover from legacy system to new Retail ViVA.

After initial deployment Sathguru added more than eight trendy modules like wedding registry, intelligent stock take, disaster Point-Of-Sale, Campaign management, Electronic delivery, communication management and Gift coupon & lottery to provide competitive advantage to Courts.



Prior to implementation, every aspect of the data conversion process was carefully mapped for precise migration of data from Courts legacy system. The data migrated for 13 old years was tallied as per pre-agreed audit procedures and signed-off by Courts




QlikView Business Intelligence


QlikView is a self-service Business Intelligence and data visualization tool for reporting and analysis. With QlikView, Sathguru delivers a Business Intelligence software solution that provide deep insight into business performance. Courts deployed QlikView across all functional areas to analyze products, promotions, people, sales, order management and in maximizing the customer satisfaction and loyalty. Sathguru simplified the path from data to decisions and helped in gaining the competitive market advantage.
Customer Response
Benefits
In Courts Fiji Limited, Operations have become faster and more efficient. Users can quickly and easily setup products and other masters in the software with optimum audit trials. The role based access system incorporated in Retail ViVA smoothened the work flow for Courts, bringing in efficiency in their day-to-day operations
The company gained visibility across its operations, supply chain, sales and customer services. Courts could offer superior service compared to competition which became evident in terms of customer acquisition
The open to buy (OTB) was well strengthened to provide better inventory control and minimizes stock-out situations, thereby improving bottom line. Courts could have daily gross profit and budget comparison reports for effective monitoring of various category of stock at various branches
Courts could get their existing work done by saving on manpower, thereby deploying surplus manpower at store floor to maximize sales. Courts could achieve more than expected growth in their top as well as bottom line
Customer Quote:
"While we have been business partners, for the deployment of Oracle based ERP software solution with Sathguru for the last two years only we are indeed honored to have chosen a reputable, reliable and respectable partner. We are pleased with the professionalism and high standard of service delivered by the Sathguru team that are not only well versed in the field of software development but have expertise in several business operational areas. The team worked tirelessly and stood tall in dealing with the obstacles and challenges that are faced with an it project of such Magniture" R. P. Sharma, CEO & Director, Courts Fiji ltd.
Share this page: